Boz Saddlery #1 in the world in SADDLES - BITS AND TRAINING and we can prove it "Lets Ride"
$100.00 challenge to anyone that is using any other saddle - bit or training system and can pass the Bozzage Basic handle beginner level. The failure of this test is proving why Over 50,000 riders end up in wheelchairs for life each year.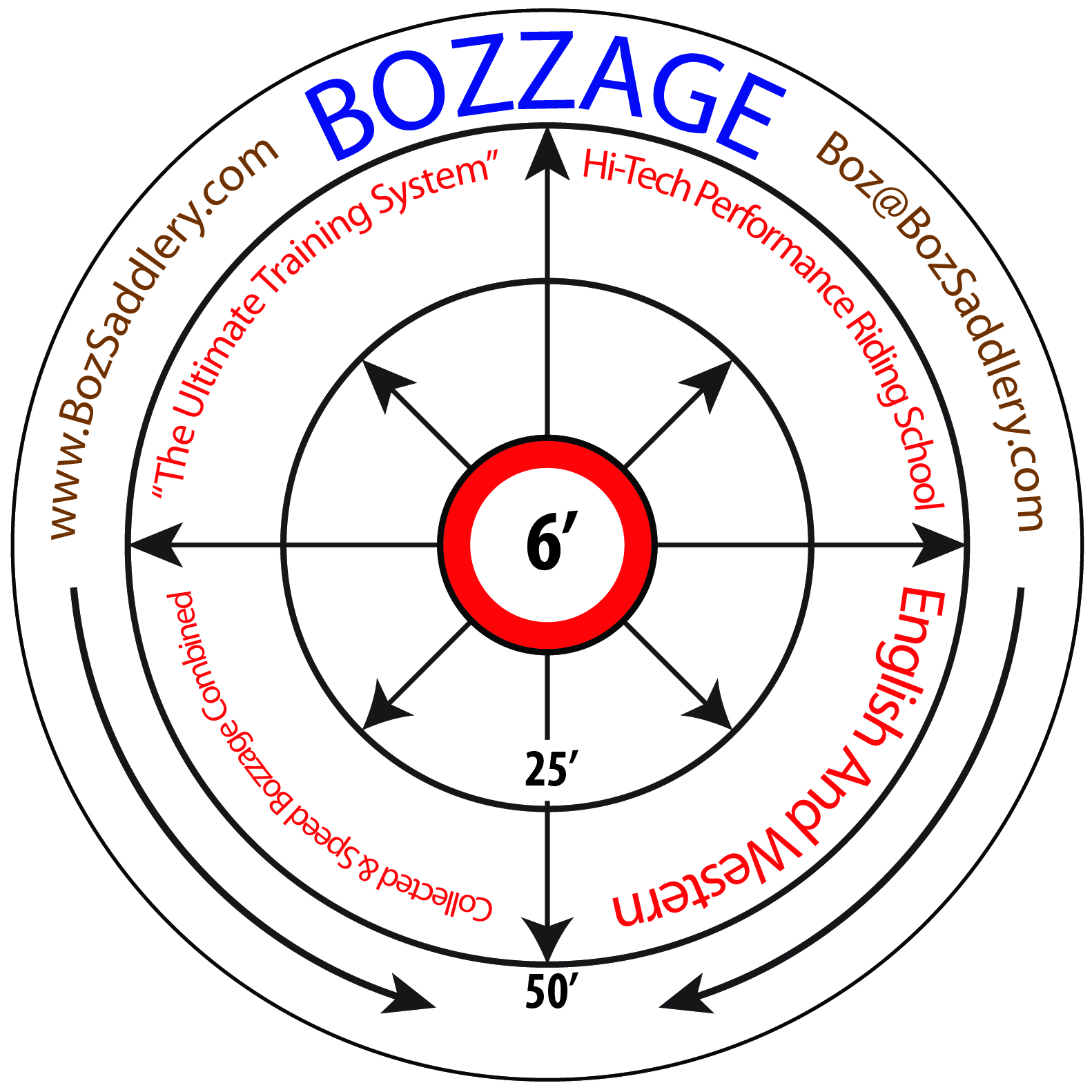 Bozzage
"We ride on our FEET not our SEAT!"
"The Ultimate Training System"
Hi-Tech Performance Riding For English And Western Collected And Speed Bozzage Combined
2 hands - 1 hand - no hands - with sticks only at all 4 speeds
Click here to see: The Bozzage Horse and Rider Evaluation Test
Click here to read review from Bozzage students Bozzage Reviews
1. First of their kind! PHD
2. Please call if you are interested in attending a Bozzage Clinic or if you are interested in holding a Bozzage Clinic in your area.
3. Piggly Pines Rates
4.BOZ BOZZAGE Clinics (Persons to Contact)
5.Upcoming BOZ BOZZAGE Clinics
6. Boz Clinic Registration for 2013 - Bozzage clinic or Bozzage private training form
Boz Private Training Registration form
BOZ BUCKING DUMMY - The Boz Bucking Dummy, learn how to break and train your horse safely.
Bozzage Piggly Pines Info - Information about Piggly Pines Ranch Training facility and Horse vacation options. We offer Boz clinics, Boz private training, Horse vacations with places to stay, horse pens, arena and round-pens. Have access to 100's of miles of trails to ride in the High Sierras. See pictures below on Piggly Pines in July 2009
PIGGLY PINES IN JULY 2009 - Come up and join us in the High Sierra's. We have an arena, roundpen and horse stalls and you can camp, rent a room, cabin or tipi.
January 2010 Storm - See how we spent the a week in Jan., 2010 .
PIGGLY PINES BOZ SADDLERY SHOP - Visit our saddle shop
AERC Convention 2013 - Reno NV.
AERC 2011 Convention - Our booth at the convention
AERC CONVENTION 2010 - We attended the convention and had a booth in Reno
BOZ SHOEING - Learn how to shoe your own horse and check out Boz shoeing equipment that makes the job easier, faster and safer.
BOZ CLINICS AWAY AND AT PIGGLY PINES RANCH and CONVENTIONS
Bozzage Clinic at BJ's Nov. 2013

Bozzage July 2013 Clinic - Beautiful weather , great clinic at Piggly Pines
Bozzage Clinic at BJ's May 2013
Clinic at BJ's - March 2013 -

Click to see what you missed out on not going to a Bozzage clinic. This was at BJ Fallerts ranch near Porterville, March 2013
Bozzage September 2012Clinic
Boz Clinic August 2005 at Piggly Pines Ranch
Boz September 2005 Clinic at Piggly Pines Ranch
AERC Convention in Reno - 2005
Horse Expo Pictures - 2012
EVENTS AND ETC AT PIGGLY PINES AND PONDEROSA - Piggly Pines & Events - See pictures
PPOA Snowday 2010 - Ponderosa Property Owners Association asked us to host their annual Snowday for the community. Here are some pictures of the event at Piggly Pines
SNOWFEST 2010 - The area snowmobilers each year put on a snow fun day for the clients at the Porterville Sheltered Workshop. These clients are mentally handicapped and some have physical disabilities as well. The snowmobilers for the local club "Sequoia Snowmobilers", Bakersfields club "Sugarloafers Snowmobile Club" and Fresno area "Bass Lake Snowmobile Club" all bring their snowmobiles up to Ponderosa to the Quaking Aspen campground and put on a snow fun day for all the clients. They take them for rides on their snowmobiles and serve them a hot lunch and then more rides. Each year these volunteers do this and the clients get a chance to play in the snow and ride a snowmobile which if it wasn't for these people they would never have a chance. The local CHP, Sequoia National Forest Service,Cal Trans, Tulare County road crew and our local Deputy Sheriff officer all come and help make sure everything is as it should be for a fun and safe day. As you can see by the pictures a fun time was had by all.
Back to Home
Back to Piggly Pines Rental Rates