BOZ SADDLES - A VIEW OF ALL
If you would like to order one of these saddles, please print out a saddle worksheet: SADDLE KIT WORK SHEET There are 3 different worksheets depending on type of saddle you would like to order.

Boz Flexible Springflex Airflow Saddle Trees: They come in most colors and either a Swell fork(the black tree in the middle or a Slick Fork (the brown on the left and the grey on the right). The swell accepts a horn and the slick doesn't.

This picture shows the front view and the difference of a swell fork and a slick fork. Red on left is a swell fork and the brown tree on the right is a slick.
ALL SADDLE TREES COME IN: Bone, Black, Brown, Red, Green, Blue, Purple, Gray, Pink or we can create a different color just for you.
We will start with the basic Boz Trail Fleece Saddle or Kit saddle: Swell and Slick fork trees
Mountain Racer - basic saddle with sheepskin seat and covered pommel and rear points
Sport Agility - basic saddle with a leather seat upgrade. The pommel and the cantle on these saddle are not covered.
10.

11.

12.

13.

14.

15.

16.

17.

Ultimate - basic saddle with a leather seat, covered pommel and rear points.
10.

11.

12.

13.

14.

15.

16.

17.

Performance Saddle - same as The Ultimate, but with 2 more upgrades. 1. Square or full round rear skirts. 2. Western style stirrup leathers instead of 3" stirrup leathers.
Specialty Saddles - Same as The Performance but a little fancier. Silver package - conchos, Breast collar and Stirrups
The Weatherby.

The Freeland

The Bonelli

The Pearce

The Amio

The Lynn

Boz Bareback Saddles - Click here to see info about the Boz Bareback saddle Bareback Saddle
9.

10.

11.

12.

13.

14. & 15.


Boz Bareback pads for the Boz Bareback
16.

How too:

Attaching sponge comfort bars. They must be touching down the center to protect the spine.
Options:

Compass and Thigh rolls on a slick fork saddle


Ponyring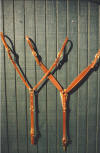 Regular on the left and Deluxe on the Right

Stirrups that we offer

Back cinch and Deluxe Breast Collar in Black and Mahogany

Boz Special Tapaderos, Deluxe Breast Collar and Back Cinch