John Bozanich is one of the most accomplished equestrian Masters of our time. Please click on the equestrian items or subjects you are interested in. John can help you with ALL of your equestrians questions and equipment needs.
All about the Boz Obsession - 1993 World Record Symposiums, no other Equestrian can come close. BOZ Profile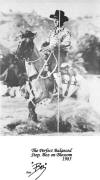 The Perfect Balanced Stop - BOZ on Blossom - a Spanish Barb Mare - showing how to do a perfect slide stop (Running in front and sliding in rear. Boz is up off her back with loose reins in a balance position when riding a Boz Saddle.
"Ode To Boz" - A tribute written by Carol and Cindy
TROTTING ON WATER: By Jeff Herten - A story by Jeff Herten
A Thank you from Dr. Mike Jepsen, M.D. - Read what Mike had to say to Boz.

John is also an accomplished golfer. 2013 he is going for 4 divisions in LDA (Long Drivers of America. He will be competing in the World Finals in Mesquite, NV in September. Please click here for some pictures and info. Golf
Back to Home