Boz Saddlery
Boz Original Balance Ride Springflex SaddlesTM Since 1970
THE ONLY MONTE FOREMAN BALANCE RIDE STYLE SADDLE WITH A FLEXIBLE TREE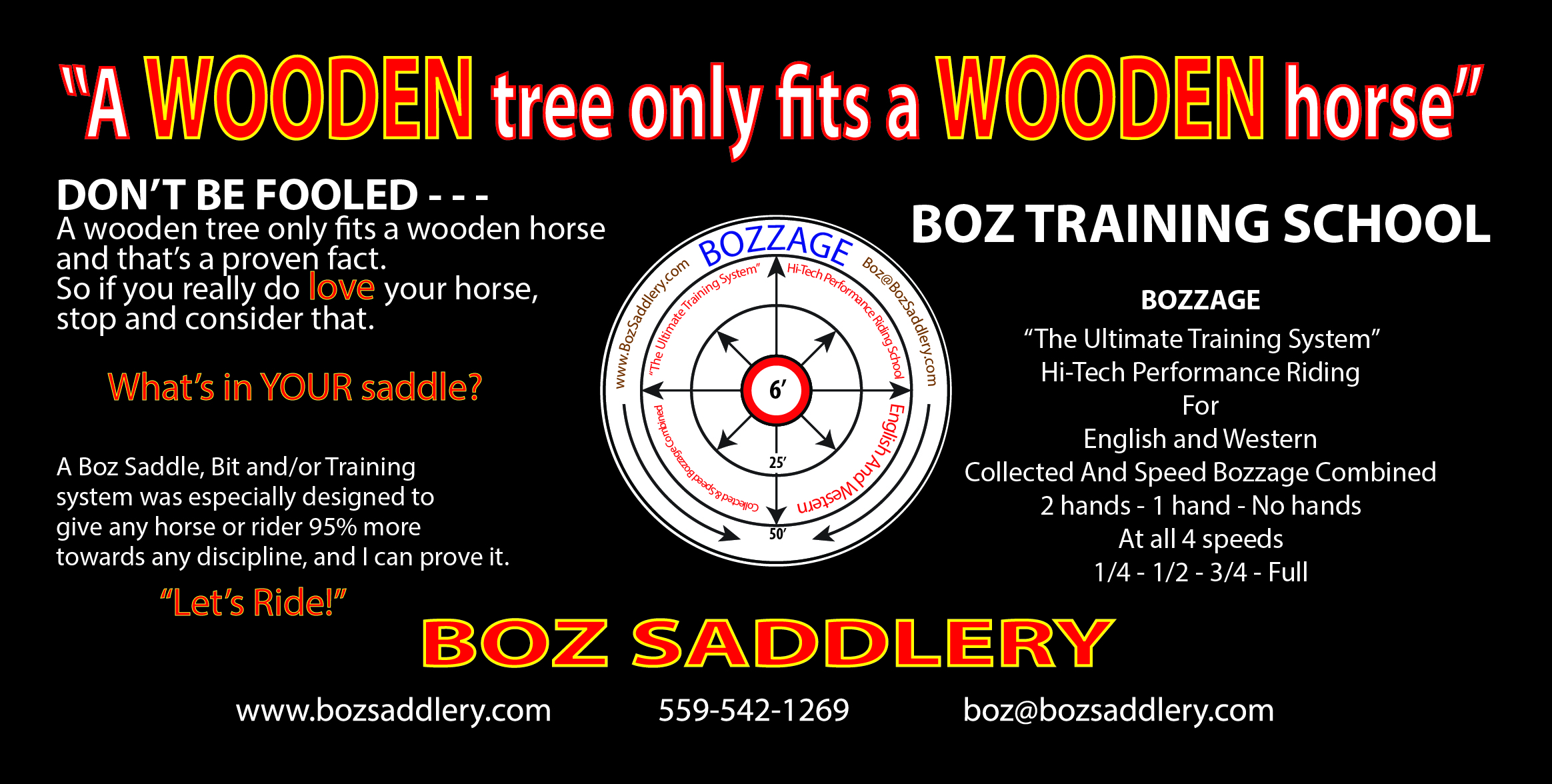 1. You can't argue with Physics, it is impossible to fit a rigid object to a moving object, PERIOD!
2. Anyone who says they can is Long on WIND and SHORT on KNOWLEDGE!
3. Because Riding your horse in a WOODEN RIGID TREE is like someone making you run a mile in WOODEN SHOES with SPECIAL Padding. It's just that simple and I can prove it! "Lets Ride"
Non-original owners pay a 20% surcharge on all repairs, replacement parts, saddle related items and upgrades.
Click below on these links to see different pages
This video is the product of over seventy five years of research by several of the worlds foremost authorities on horse and rider movement, balance and agility. Riding By Reasoning is the final word on Saddle design, rider positioning for virtually every discipline known to the world of Horsemanship.
Riding by Reasoning is a video that includes the most scientific studies ever done on saddles and riding positions of all disciplines, English and Western. Learn why you have only been able to get 10% out of yourself and your horse as a team, even if you are a champion. This will show you without a question what real "BALANCE RIDING" is all about. All questions will be answered.
If you would like a printed version click below.
RBR Saddle Research (RBR stands for Riding By Reasoning) by Monte Foreman
The most scientific saddle research ever done .
Click here to read: Riding By Reasoning PDF
Featured Saddle
THE ULTIMATE LIGHT BARREL RACER
24 Advantages a Boz Saddle has, that no other saddle has!

1. Patented Boz Springflex Tree #5101614

2. Forward performance speed racing seats

3. Forward hung not swing stirrup leathers

4. Bulkless rigging behind your leg, not under it

5. Removable sponge bars for the perfect fit to any horse

6. Pebble Grip Boz Horns

7. Pebble Grip leather (A Boz Trademark)

8. Shin bone relief stirrups with crepe foot treads

9. This saddle needs no horse pad, therefore – less bulk – less weight

10. Ready to race on the horse – 20lbs.

11. Non restricting forward slant horns

12. Adjust stirrups while sitting in the saddle

13. Interchangeable horns in 10 minutes

14. Interchangeable rear floating cups, round or square skirts

15. Can add 30 lbs. of training weight inside of tree

16. Water injection system for cooling horses

17. No hobbling of stirrup leathers, much freer swing. Custom stirrup design will not flip over

18. Stirrups will lock forward, middle or back in seconds while riding, because of the V style stirrup leathers

19. Custom designed pony ring – to pony 1 to 4 horses at a time safely.

20. You can ride sitting, or standing at any speed or direction with no loss of security while pulling on a horse's head with 2 hands

21. 35 yrs in Endurance , 100 mile racing and never a sore back

22. Rear points of saddle float 1 ˝" up off loins , for more hind end power and maximum performance

23. Strongest horn pull out at 10 Tons

24. Strongest and most scientific Tree ever made

Made in USA by Senior citizens.

Just Riding a Boz makes you a WINNER – especially to your HORSE!

Call and learn the 3 secrets to become a champion. www.bozsaddlery.com boz@bozsaddlery.com 559-542-1269
Saddle weighs 20 lbs. This is the new Ultimate Light Barrel Racing saddle built for speed and balance. It has the new Boz Pebble Grip horn that is Alum. and light weight. Gives you a little Bling for your saddle. Notice the reverse Alum Stirrups that gives relief to your shin bone, this was requested by the customer. This saddle has a performance seat to keep you forward in the balanced position. This customer is racing for money , her saddle needs to be comfortable for her horse and has to keep her balanced and in the correct position. Per customers request, notice the short strings and small conchos, gives you some bling but not too much to add weight. ( $3897.00)
Finally NO MORE 1. Shoulder pinching 2. Loin rubbing 3. or Bridging
Plus 95% more Balance and Security
Riding a BOZ makes you a "WINNER " - especially to your HORSE!












These pictures show some of our saddles and equipment along with Piggly Pines/Shop and clinic students enjoying a ride in our meadow and seeing the giant redwood that are near by. To see more click on the links above for saddles, clinics and Piggly Pines.
A BIG CONGRATS OUT TO CHERI BRISCO ON HER AMAZING ACHIEVEMENTS IN THE WORLD OF ENDURANCE 2013 and now 2014. She has both our Boz Bareback Saddle and The Boz Trail Saddle with the fleece seat. She rides both of our saddles but thinks she really likes the Boz Bareback the best. Please see below what she did in 2013 and Click here Testimonials and then scroll down to the Endurance sections of Testimonials, to see what she has done in the past years.
Cheri Brisco does it again:

2013 Christmas card brings another great year for Cheri. 1660 miles in 2013. 1st Jim Jones Stallion Award, 1st National Mileage Championship Senior Division, 1st award for Bill Stuckey, 1st Pac S.W. Feather weight. This was done all in the Boz Bareback Saddle and Boz Trail Saddle. See her quote in AERC News, thanking Boz for making saddles that fit so well.
Again in 2014 she wins the Jim Jones Stallion Award. Big Congrats to Cheri!!!!!!!!!!!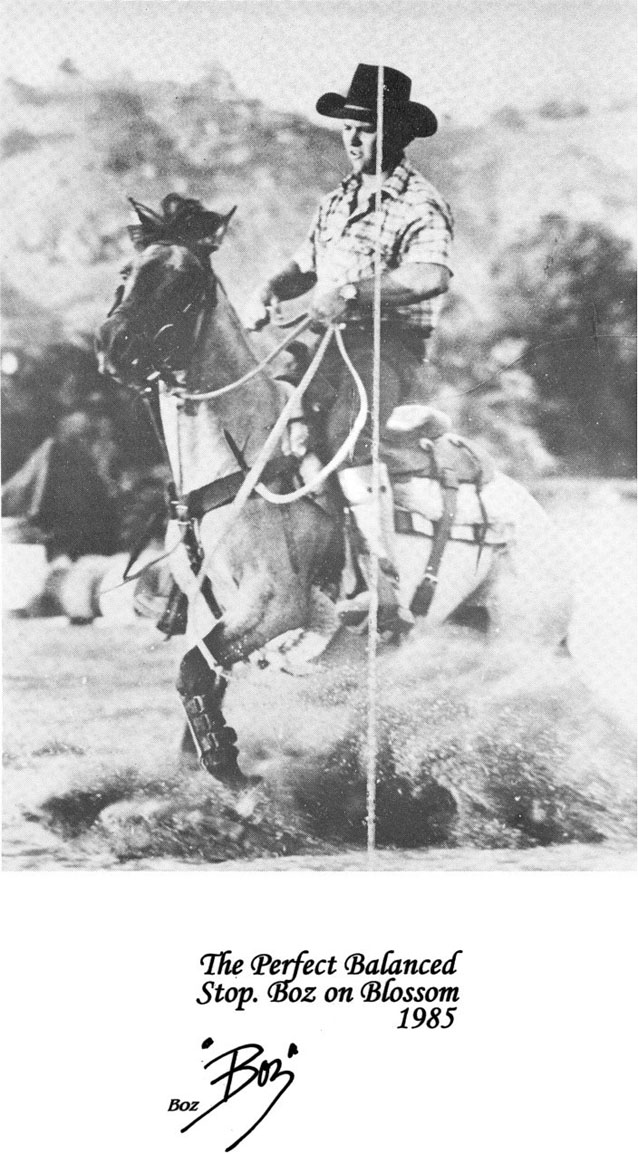 Bozzage
"It's the FOOTWORK that COUNTS" - "We ride on our FEET not our SEAT"
To achieve an all SPEED handle, which we call "BOZZAGE"
"The SPIN stops HERE"
Boz Profile
STOP! LOOK AT VIDEO 1ST
AND THEN READ RIDING BY REASONING
1.Boz Saddlery/Bozzage Training Introduction Video (You tube version)
2. RBR Saddle Research (RBR stands for Riding By Reasoning) by Monte Foreman
The most scientific saddle research ever done .
Click here to read: Riding By Reasoning PDF

Click here to see how you can earn this medallion and 4 different levels of tags.

All prices on all items are subject to change without notice.

Call for current prices 559-542-1269

The most scientifically designed and built "SADDLES" and "TRAINING GEAR" in the world. There has been enough talk....isn't it time to put it in "RIDING?" Think about it, you have to have a BOZ SADDLE because you love your horse. Boz saddles are built on Genuine BOZ SPRING FLEX AIR FLOW RELAX FIT WITH MEMORY SADDLE TREES in the style of the Monte Foreman Balance Ride Saddles only on a Boz flexible saddle tree.

Boz Saddlery/Bozzage Training - 58348 Meadow Lane, "Ponderosa", Springville, CA 93265

Email: boz@bozsaddlery.com or ann@bozsaddlery.com

US PATENT # 5,101,614

PLEASE NOTE: All sales are final. No credits or refunds after orders are placed. We reserve the right to refuse anyone.

Number of Visitors:
Authored By
Ann Bozanich
Revised April 14, 2015