BOZ ULTIMATE SWELL FORK SADDLES WITH HORNS
Boz Saddle Worksheet

Design your own BOZ SADDLE Boz Saddle Worksheet - Price List
Print this saddle worksheet and design your own personal Boz Saddle. There are more options available, if you need help please call John and he will be happy to help you, 559-542-1269 When complete email order form to us.

ULTIMATE SADDLES - prices vary per options - All Ultimate saddles have covered pommels, and covered rear points. You can get them with a horn or no horn. See other options on worksheet.
11.Ultimate with Alum. Horn with Custom Grape vines stamping Grape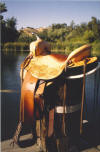 This is a one of a kind, shows the specialty you can have with your personal preference.
12.Ultimate Swell Fork Saddle with Mahogony Leather, Bronze Horn and Western Stirrup Fenders, Pony Ring





13.Ultimate swell fork saddle with Chestnut leather, alum horn. This is the saddle we took to the HorseExpo in Pomona:


14.




The Wilhelm Saddle - This Boz Saddle is an Ultimate saddle with Western style stirrup leathers, Special Boz Tapaderos with Leather treads and Silver Conchos , Deluxe Breast Collar, Deluxe Boz Back Cinch. It has our Barbwire stamp on the borders. These pictures show Boz hand sewing the cantle of the saddle and sewing the backcinch. This saddle is on its way to Michigan to our customer. This is her 2nd Boz Saddle. Click on the pictures to enlarge and see the detailing.
Boz Pony Ring Boz Pony Ring The Boz Pony Ring lets you pony your horses safely.
Back to Home